USCAR  ( EV6 ) Style Female Fuel Injector Connector
USCAR injector connectors are commonly known as EV6 connectors.
USCAR fuel injector connectors are also the same as Bosch Motorsport style connectors      
Is the "rounded edged" square shaped style fuel injector connector / plug ( square shaped connector with rounded edges)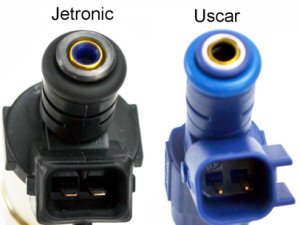 This is a very common fuel injector connector and is used on many newer model vehicles, especially most GM, Ford, and Chrysler vehicles manufactured since 2006.
USCAR fuel injector connectors / plugs are commonly used on Bosch EV6 injectors and on the newer Bosch EV14 'pencil thin' fuel injectors.
USCAR refers to the United States Council for Automotive Research LLC. They are an industry standards organization that is helping to standardize components used in all Ford, GM, and Chrysler vehicles. The USCAR style fuel injector connectors / plugs offered here are used on many Bosch EV6 and EV14 fuel injectors in both domestic and import vehicles.
Note: Bosch Motorsports does sell new EV6 and new EV14 fuel injectors with many different connector types, including manufacturer specific designs ( Toyota, Honda, Nippon Denso, Sumitomo, GM Multec, Nissan ).
       Visually confirm what type of connector you have before ordering