Jetronic / Minitimer ( EV1 ) Style Female Fuel Injector Connectors
Also commonly known as EV1 Connectors
Are the rectangle shaped Bosch style fuel injector connectors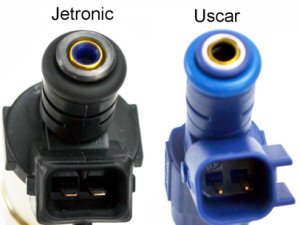 The Jetronic / Minitimer ( EV1 ) style used in your application will be determined by the available space on your fuel injector's fuel rail. Look carefully to see if your existing connectors are side or top release or long or short body.
EV1 Style fuel injector connectors are used on a large number of OEM applications up until the year 2006.
Many ( not all ) GM and Ford makes / models prior to the year 2000 used EV1 fuel injector connectors.
After the year 2000, many GM makes and models began using Multec ' Mini ' Delphi style fuel injector connectors.