About Us
         We are a family run and operated business.  Servicing fuel injectors and supplying injector parts is all we do.  Your injectors will be treated as priority one from the moment they arrive at our shop until they leave for the return trip to you.
        The Perkins family started the fuel injector shop after spending years in commercial fleet vehicle maintenance, and also tearing down and rebuilding our own vehicles from top to bottom. Over the years we continually would hear from Friends, Family, and Customers who experienced a large number of incidents at repair shops where the mechanics and technicians could not diagnose or properly fix fuel injector problems reasonably.  They all had the same story of $1,000 to $2,000 diagnostic and repair bills just to find out that the problem was only one or two dirty and clogged injectors or just a couple of bad fuel injector connectors !!!  The usual story goes as follows:  their car is running rough, starting hard, poor performance, worsening gas mileage, emissions failure, O2 sensor failure, or catalytic converter failure. They may or may not have a check engine light.  The usual "fix" will be an 'in the tank' fuel system cleaning additive, or a fuel rail injector cleaning service which may or may not work.  Then comes the replacement of ; spark plugs and wires, the ignition coils,  the fuel pump, the fuel pressure regulator, and then finally $100 or more to replace each injector!  The next thing you know, the car has been in and out of the shop 2 or 3 times with hundreds and hundreds of dollars wasted, and precious time wasted.
        We are here to save you time and money.  It is enjoyable to be able to support our family and at the same time save you money, save you fuel, reduce pollution, and increase your vehicle's performance.
---
 One of our past projects: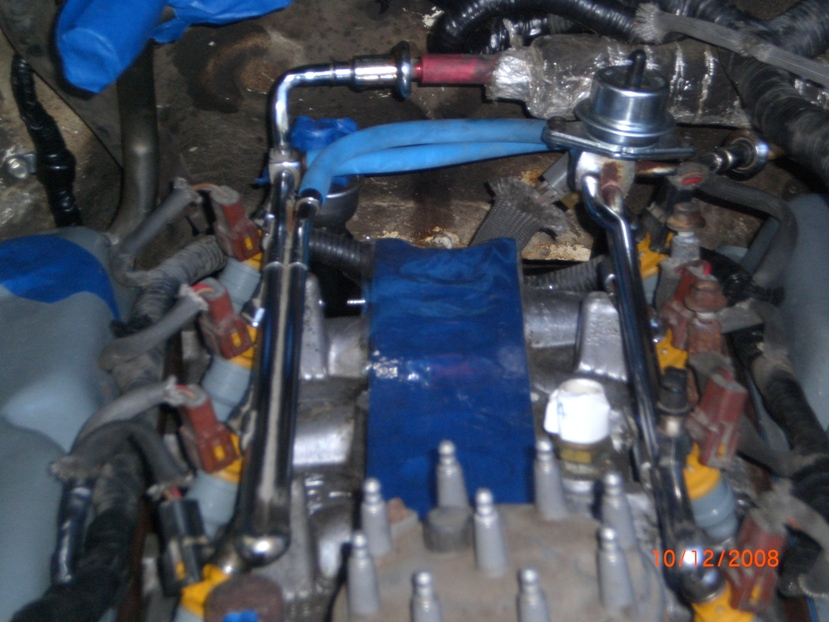 One tear down we did was on an old 1988 Ford F350 Bucket Truck that sat for years.  The truck had a Ford Windsor V8 351 cu in with Bosch injectors.  This baby ran like a dream after the ultrasonically cleaned, flow tested, and refurbished fuel injectors were installed.  Notice the two replaced fuel injector connectors.  The connectors broke during removal. In 2008 when we did this injection system, we had to go to a junkyard to find replacement fuel injector connectors. Now, we have sourced out a complete line of new fuel injector connectors, and offer them for sale on Order Fuel Injector Connector page.